(Bumped due to important rewording)
Forenote:
So this is now me speaking as of 07/07/2012 (that is July 7th, for those who use different layouts of date and time. Seriously never did understand that crap...) - very early in the morning, I'd like to add (like 1AMish) - post-return and, having re-read this thread, I gave an unfulfilled promise to tidy it up. What you are now reading is the Hi-Res Skinning Tutorial Mk2 (yay, woohoo) and trust me it used to look a lot messier... But enough with the babblings - you're here for a reason, so let's get this party started
As I said in the original, this is actually a fairly straightforward procedure if you ignore my babbling, but sometimes waffling helps to clear up misconceptions. And waffles taste nice. Especially with chocolate ice cream. I haven't eaten yet. Waffles
PLEASE BE AWARE:
If you are uncomfortable with simple skinning or
MSTing
,
turn back now
. Though this isn't
overly difficult
once you get the hang of it, if you struggle with basic TML editing, this is really not the place for you! Return to the basics (my suggestion being Integrity Zero's tutorial, because that's what I used and what I consider the easier method, though Docszoo's tutorial is equally helpful, but perhaps not as easily related to the following). Note right away that
this is not simply a process of copy and paste
: if one is to replace only one skin, that's still quite a job, and to replace an entire digsite.tml file, my method involves
rewriting the file manually
. Also I'm assuming everyone has the correct tools (ConvertCCT, a DDS converter and a hex editor - my suggestion being HexEditorNeo, because it is soooooo infinitely better than HxD in both usability and understandability. And it's free. Get it), so if you don't go find them. Google was invented for this, chaps.
I'm expecting everyone knows the difference (at least in JPOG terms) between high resolution and low resolution skins. For those who don't know: a high resolution skin is one for which the .bmp version is 512x512 pixels. Low resolution is 256x256. Hi-Res skins tend to be used for large carnivores and some other dinos in the game, but generally most use Low-Res. If unsure which resolution the dinosaur you want to reskin is in, simply use ConvertCCT and check the file size. Simples. Also, I'm assuming everyone knows how to convert skin files from .png format to .dds format. I'm going to be using terms like this throughout the tutorial, so please make sure you A) know what I'm talking about and B) know how to do what I'm talking about (at least vaguely).
Also, before you do anything
BACK UP YOUR FILES
. Though I will try to help anyone who experiences issues with this tutorial, if you suddenly find you've deleted all your files 'by accident' and don't have back-ups, then I can't be held responsible.
So yeah. Not hard if you know your stuff. If you suddenly think that I've worried you with that long awareness speech, go back to the basics before attempting the following. If you're still feeling confident, read on and
good luck!
On with the show:
If you've read this far, you are awesome and want to learn an awesomely awesome skill which will permit you to join an awesomely exclusive club of awesome people. Awesome, huh. Now re-read that in Jack Black's voice, picturing Kung-Fu Panda. That's the kind of mindset you need to be in right now.
SO LET'S DO THIS!
Right, when I said this was a simple-ish process, I kinda lied. In fact unless you intend to reskin a dinosaur which is already Hi-Res skinned (and so is essentially just normal skinning), I would honestly recommend rewriting the file from scratch -
though this actually makes it much easier if you feel like blending in some Hi-Res MSTing at the same time.
I know it sounds a pain, but that's because it is - though the alternative (trying to placemark certain parts in a file continuously) is honestly
so
much harder. Trust me. I've tried. I just got lost in the hex-bytes.
Still interested?
AAAALLRIGHTY THEN
. Are you sitting comfortably? Then let's begin.
For the purpose of making it more understandable, I have contextualised by using the
dinos_flamingcliffs.tml
as my example. You can follow it as much as you wish - the process is essentially the same for any digsite (sans a few minor changes in the header and footer of the file).
As you're already a whizz at reskinning files, you'll know that the original .tml files are composed in the following manner
(MSTed TMLs will have more dinos, so more dino skins relative to the number of new dinos)
:
TML Header (relative to digsite)
Dino 3 Dead Skin
Dino 3 Live Skin
Dino 2 Dead Skin
Dino 2 Live Skin
Dino 1 Dead Skin
Dino 1 Live Skin
TML Footer (relative to digsite)
You will also know that the footer is arranged in the following manner:
Number of Dinos
Dino 1 Name
Dino 2 Name
Dino 3 Name
Important Footer-Footer
Excellent - I can see we're going to get along swimmingly
What you need to start by doing is opening the digsite.tml (
dinos_flamingcliffs.tml
for me) in the hex editor, then opening a blank file (which you don't have to save yet). Sadly, this is now the horrible part. What you need to do (very skillfully) is basically copy the TML Header, TML Footer and headers for any dinosaur skins you don't intend to change (
BUT DON'T COPY ANY SKINS YET
). To make this part easier, you can dissect the original file into multiple separate files for each of the skins. The Skin Header is the 7 bars of bytes prior to the skin (which will always start with 44 44 53 20 - use the FIND tool to locate each separate skin for each individual dinosaur and copy the appropriate. To make it more simple, the headers will only come in one of two ways, depending on the skin resolution. The Hi-Res skin header (which you can simply copy and paste into the new file from here) is:
Code: Select all

05 00 00 00 80 00 04 00 01 00 00 00 00 00 0c 42 06 00 00 02 00 02 ff ff 00 00 43 00
The Low-Res skin header (which you can also simply copy and paste into the new file from here, if you are wishing not to Hi-Res reskin a certain dinosaur which is already in Low-Res) is:
Code: Select all

05 00 00 00 80 00 01 00 01 00 00 00 00 00 0c 42 06 00 00 01 00 01 ff ff 00 00 43 00
From both (if copied and pasted), the first figure (05) is the only one which will need changing - this is the skin reference, and counts down from the first skin to the last (in the defaults from 05 down to 00, but,
if MSTing, from any odd number - which can be calculated by ((#dinos*2)-1), and must be written as a hex byte: you should be familiar with this already - down to 00
).
Once the headers and TML footer have been pasted accordingly, with the numbers edited appropriately, your screen should look something like this (bearing in mind I reskinned
all
the dinos in this digsite as Hi-Res: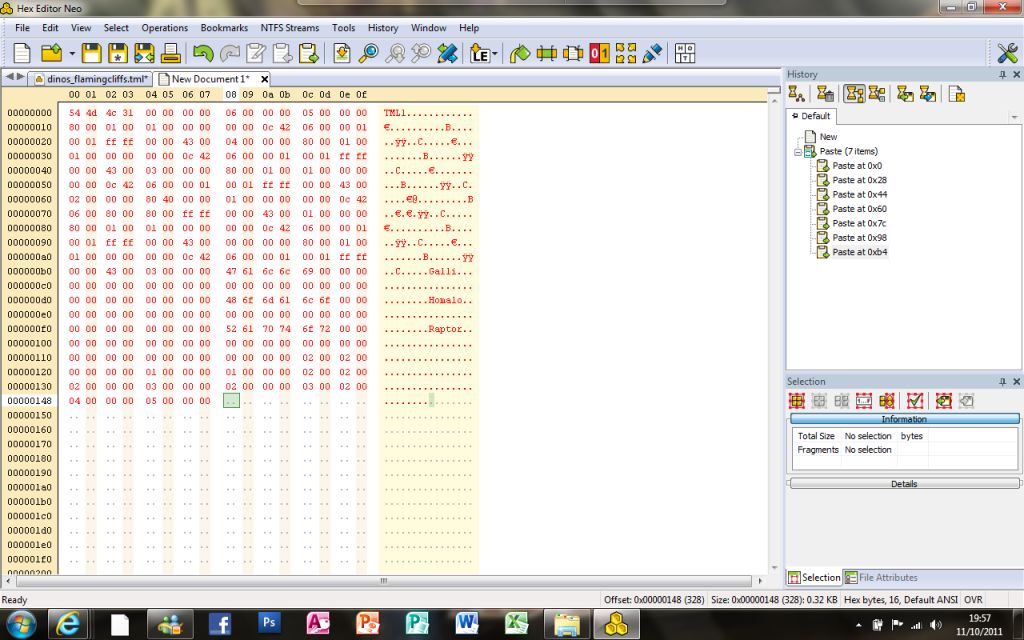 Assuming you already have all the desired skins converted into .dds format (or are simply copying and pasting the skin from the original file), the hard part is now over. I know it looks a mess, but it's actually very simple to follow. Ensuring the insert tool is turned on (so you don't overwrite everything), you can simply paste the skins in the following places
(MSTers: you will have more places, but should be confident enough to work this part out yourself)
: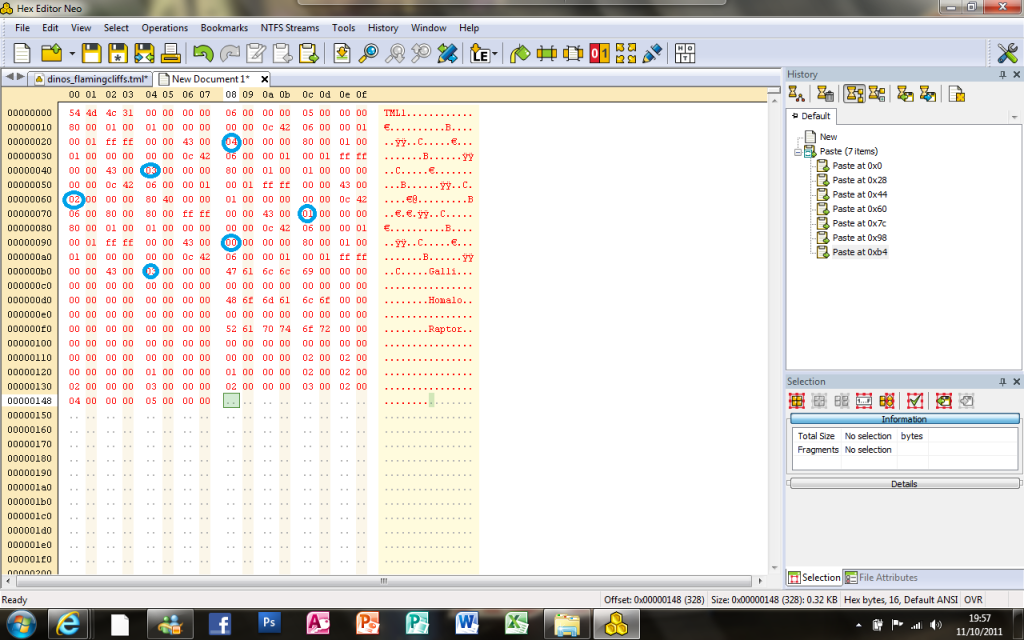 Make sure you remember to re-paste the live and dead skins in the correct order, (Dead, Live, Dead, Live, etc.), and that, if you have not remade the dead skin specifically in Hi-Res, it may be either resolution, so it is easiest to copy and past the original Skin Header if such is the case. If you are not MSTing, you're now all done: skip the following
MST-coloured part
.
MSTers, you're not quite done yet. As you've added dinos to the file, it is very important that, before you round off the file and pat yourself on the back, you ensure that you've edited the following appropriately:

The skin number in the TML header.
The skin reference numbers in each skin header.
The dinosaur number in the TML Footer.
The dinosaur codenames in the TML Footer (relative to the dino files you have created).
The Footer Footer – it's difficult to explain simply, but if you're a regular MSTer, you should be familiar with this, if not, look it up in an MST tutorial – it's pretty simple.
Once you've checked all this, you can complete the following steps.
Your .tml is repopulated with skins, so save it (preferably overwriting the original in the correct location (matlibs folder) -
BUT ONLY IF THE ORIGINAL HAS BEEN BACKED UP IN A SAFE LOCATION
), close it, and drag-drop it to ConvertCCT, to make sure the skins all work. If they don't you've done something wrong: go back and check each step of the process
*
. If they do, congratulations - the TML editing is now complete!
To truly finish the process, copy and paste the edited .tml file into the same folder and rename it, so that it has a 16 at the end (
dinos_flamingcliffs

16

.tml
), but the old _16 file will need to be deleted first.
Now fire up your JPOG, and make sure it truly works. If it worked in the convertcct, and you haven't tried to MST during this process
(it's easily possible, as explained, but you need to be EXTREMELY careful of the order you put the skins back in, and to clear up the footer, as detailed below)
, chances are that it will work in-game and now you are the happiest bunny in happy land, am I right? If you've experienced errors, check the
common errors
below - if these prove to no avail, feel free to give me a shout and I'll help you out as best I can
*Common errors:
Didn't check the insert button when inserting skins, so overwrote the whole framework you initially built.
Didn't paste the skins in the correct order.
Didn't paste the headers in the correct order/forgot one/renumbered the headers incorrectly.
MSTed, but didn't account for that in the follow-on steps above (read back up to the MST-coloured part, my precious )
Postscript:
Well - that's it, chaps. Hopefully, this has gone more silky-smooth than a Zohan haircut. I know it took me a hell of a long time to fulfil my promise - profuse apologies - but this should be a lot clearer for everyone trying to work through this fairly arduous and difficult to work out process. The last version of this, I explained how I having to leave MG temporarily due to school work and the like. Well now everything's changed: I am back in action and willing to help with any issues anyone may have (at least to the extent of my knowledge). So yeah. I hope this is helpful and all
Have a nice day!