(Originally copied from JM, Modified for here)
A lot of people seem to have one, so... Here you go. Nothing is in game (So move this if neccesary) but if you see one you like you can put it in game yourself. So this like most is just a place to show off my skinning work. I mostly do picture copies (like off the size chartr) or recolors, but still, the may still come out good. If you do see a skin you like, feel free to save it and put it in a TML yourself. Post screenshots too if you wish
I have a few to start with here:
JP3 Ceratosaurus: Based off of Size chart.
Novel Mussasaurus: Originally for NCM, but then Angel beat me to it :Razz: And yah they look alike, apparently we were thinkin the same thing
JP3 Spinosaurus: Based from Size Chart.
JP3 or TLW (I dont know) Stegosaurus: Based from the (You guessed it) Size Chart.
Christmas Themed Parasaur, Acrosaur, and Torosaurus: Red and Green Recolours!
Zoo Tycoon Styracosaurus: Based off the Zoo Tycoon Strakosaur.
And a Todd Marshall pis: Appalaichasaurus (FCM skin used with Permission from DVRex)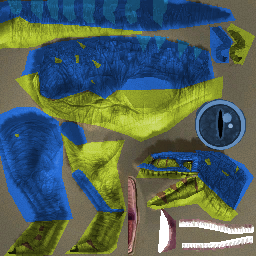 And this is the spino skin up above darkened and slightly recoloured.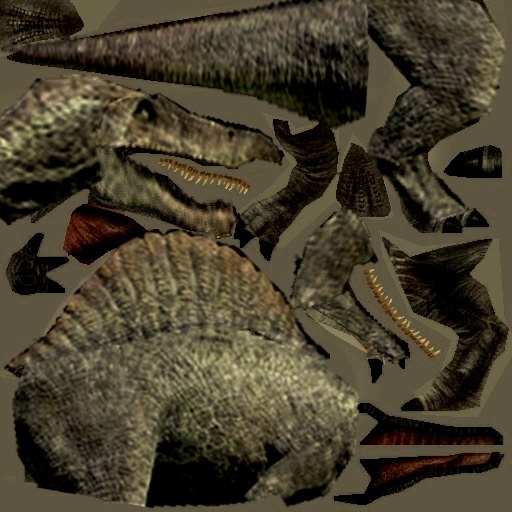 NEW: Alright, this one has to be one my favorites. :D Just a recolour, but its modeled after the Pachy Toy in the JPS2 Kenner toy line. I did the best I could to copy the patteren.
Hope you like! And like the rest, if you like what you see, go ahead and save the picture, and put it ina tml! Also if you do, feel free to post screenshots!
And well, there you go. I might add more later, whether I edit this or make a new post. Remeber nothing is in game, so if you see one you like do it yourself or have some one else do it for you. Thanks and leave some comments :D
Please do not steal any of my skins, claim it is yours, etc... Also, if you wish to recolour a skin of mine (
) please ask before doing so. Thank you.
Leave comments!